Sunday 25 July 2004
5 comments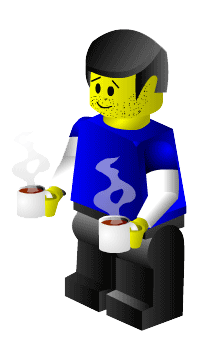 I know one of these things comes around every six months or so, but I'm afraid I'm something of a sucker for them (I'm sure I have a South Park one hanging around somewhere). Anyway, it's a make-your-own-likeness-in-Lego tool – more than adequate for passing 15 minutes of your day

(Cheers to Karen Vaughn for the link)
So, without too much further ado, here's me. Enjoy.
Oh, and still no progress on Inkling design – I could really do with splitting it up into smaller sub-projects to make it less daunting, or I could just stop being such a lazy goit and get on with it.
Addendum – it would probably be clever to post the link, wouldn't it? Here you go.
5 Responses to "In the spirit of randomness…"
Sunday 25 July 2004 at 22:46

[…] o full entry"> 11:46:27 pm, Categories: Me, 46 words Lego. Nice. Fatty, being the only other blog that I read at […]

(I'm sure I have a South Park one hanging around somewhere)

You mean other than the ones I did of the whole family which Mum proudly displays in the kitchen? 😛

Yes Anonymous – those ones 😛

Sorry, that was me… not paying attention

Lego is You What would you look like if you were a Lego toy? (Link from Fatbusinessman)…