Thursday 5 August 2004
1 comment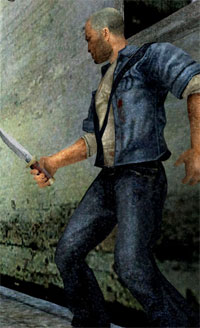 A few interesting developments in the "mothers vs. Manhunt" controversy:
Fairly predictably, following the mantra of "there is no such thing as bad publicity", sales of Manhunt have risen dramatically, despite being pulled off the shelves at Dixons and GAME stores. Whether this is because the game is in the news, because the game may get banned at some point in the near future, or because people are sick and warped, who knows…
More interestingly, it has been revealed that, while a copy of Manhunt has been found, it was in the victim's house, not the killer's. This is very interesting (and appears to have been rather glossed over by the larger news sites) – not only does it have some interesting implications for the "Warren LeBlanc was playing this game obsessively and it turned him into a killer" argument, but it also adds a nice touch of hypocrisy to Mrs Pakeerah's statement that "The content of this game is contemptible. It's a societal hazard", which conveniently avoids the apparent fact that she was allowing her 14-year-old son to play the game. (Or didn't realise he was playing it, which is almost as bad).
Another fact that appears to have been glossed over – Warren LeBlanc apparently "had planned to rob his younger friend to help repay a drugs debt" (source: CNN). Surely drug use is a rather more pertinent aspect of this crime than violent computer games?
One Response to "Killer psycho game update"
From Nina
Thursday 5 August 2004 at 10:33

Ooooh you can't help but love a bit of hypocrisy!