Thursday 19 August 2004
2 comments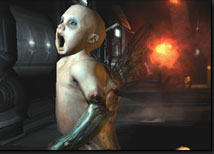 Well, as you may have noticed, I haven't posted anything for the past week or so. This is almost entirely due to playing large quantities of Doom 3.
If you've read reviews of Doom 3, you'll have noticed that they say the graphics are abso-bloody-lutely gorgeous.
They are right.
You may have also noticed that some reviews say the gameplay is a little repetitive, that the AI is rather stupid (in a running-at-you-and-throwing-the-odd-fireball kind of way) and that there are a number of plot-holes (like how one marine manages to survive when everyone else is getting slaughtered).
They are also right (although to the people who ask about how one marine manages to survive I say this – did you complain when one geeky scientist with a silly beard survived?)
However, I agree with the general consensus that Doom 3 is a damn fine game – not least because it (quite literally, at times) oozes atmosphere. However, one main thing has struck me about the game: killer demon flying insect babies are really creepy.
2 Responses to "Doom 3 impressions"
Oh for the day that I can once again afford computer games…

Well, considering you've got one of these job thingies for the next year, I can imagine that day isn't too far away…