Thursday 7 April 2005
4 comments
Microsoft today released MSN Messenger version 7.0 to the eagerly-awaiting public. As Messenger is an application that I use quite a lot (at least when I decide to boot into Windows), I felt I should try out this new version. So I installed it.
I shall start off by saying that this review is going to be less of a review and more of a rant. Needless to say my impression of MSN Messenger 7 is not a good one. I shall complain about a number of things I dislike about the new version, with screenshots no less.
However, I would not like to be thought of as unfairly antagonistic towards Microsoft products (hehe), so I shall list some of the advantages that Messenger 7 offers over Messenger 6.
The "toast" popups you get when a contact comes online or initiates a conversation now contain their display picture. This makes it somewhat easier to identify at a glance who has just come online or who has just messaged you.
You have the option of including a "personal message" along with your username. This should in theory provide a rather more pleasant alternative to everyone changing their contact name to suit their mood.
Yeah, that's about it.
Sadly, what it brings with this is possibly the most obscene amount of feature bloat and commercialised clutter that I have seen in any piece of software to date, including the famously-bloated ICQ. Let's take a look at some of Messenger 7's new features:
Nudges: at the press of a button, you can make your conversation partner's window fly around the screen like a monkey with too much coffee, along with a stupid noise. You know the mildly annoying "browser shake" script? Think that, but add sound and make it controlled by someone else. Rather annoying.
Winks: basically the ability to send a Flash animation to a friend and have it play in their chat window. No practical application at all.
Shared searching: the option to go through search results collaboratively. I cannot think of a single reason why I would want to do this.
Handwritten messages: allows you to draw an image using your mouse or (if you happen to be one of the very few who own one) a graphics tablet, and send it to a friend. Possibly a very slightly useful feature for those with graphics tablets, but for the rest of us it certainly doesn't offer any increase in speed, and seems to have very little by way of practical application.
So, not looking particularly good on the feature front. The really annoying thing about this, however, is that it's very difficult (verging on the impossible) to get rid of. For example, the big "Send" button has now been split into a combination "Send"/"Search" button. I'm no HCI expert, but this just seems to be inviting accidental clicking, all for the sake of a feature few people are likely to use. And there seems to be no way to turn it off.
This, combined with the new icons for all the new features you don't really want, gives the user an astoundingly cluttered interface by default. Example:
The default conversation window which greeted me with MSN 7 (with Messenger Plus installed, hence the two icons on the far left):

Of course, much of this can be removed: the display picture can be hidden, the icons along the top can be hidden, and the little switcher for handwritten versus typed messages doesn't really get in the way. So this is annoying at first, but can be removed.
Not so the hideous amounts of advertising. There is still, of course, the obligatory advert at the bottom of the contact list, accompanied by advertisements to buy extra emoticons in the emoticon menu: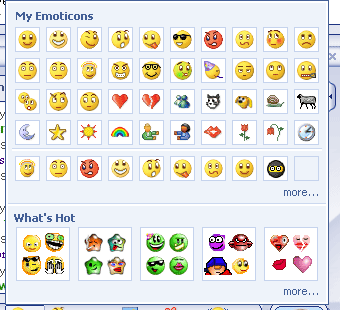 the advertisements to buy extra content at the bottom of every conversation window (a hyperlink, of course, just begging to be clicked accidentally):

and the addition of links to MSN content right underneath my status indicator:

There. My spleen is vented. In summary:
Very few new features that are genuinely useful.
Lots of feature bloat.
Obtrusive adverts which just beg for accidental clicks.
No doubt hacked builds will turn up in a few days with the majority of the advertising removed, but I still doubt I will "upgrade". It seems not to be worth it in the slightest.
4 Responses to "MSN Messenger, what hast thou dunst?"
Nudges can, thank God, be switched off (sending and recieving combined). This is not least reassuring since various hacked builds of the betas disabled the Nudge Spam limitor (yes, nudge spamming is, apparently, controlled on the sender side).

A note about HCI. I agree with you completely on this, but I need to reiterate: What were the MSN devs smoking when they designed their menus? Seriously? Why is the menu bar structured in a way that bears no relation to any other piece of software ever? Why are there "View" options under the "Tools" menu? Now I know I might have given the Microsoft Office devs some faint praise for not putting a media player in Word's tools menu but maybe they only achieved that by cosmically balancing the monstrosity that is Messenger.

I swear, those who assemble Microsoft development teams are smoking crack – you need someone in the team who understands HCI. We're blessed at FSC because we have more than one (albeit by luck, rather than any conscious employment decision. And that does generously count me). My mind boggles.

Ultimately though, "Winks", "MSN Spaces" and other such crap is just Microsoft's plan. Frankly, we could have predicted such a move from "basic chat client" through "bloated chat client" (MSN6) to MSN7 when Microsoft first entered the market. MSN (with tabs enabled) is a tool. It links a whole load of services into an ultimately quite small window on the desktop. Microsoft have not been building a pure chat client for years.

In that respect, I'm kinda suprised you didn't explode over MSN6? Sure the feature-bloat was far larger going from 5 to 6. 7 is just a predictable evolution. I feel a bit angry about MSN Spaces being forced into the marketshare, not because it's another MS imitation service getting undeserved promotion but because it's cack. Utterly rubbish. And the HTML is terrible too, which will no doubt encourage yet another generation of people to 'do a GeoCities' with someone's company website. Oh My.

Sorry if this sounds harsh – I do on the whole agree with everything you say. I just think that this was far more inevitable than your rant would have us believe and that ultimately it's all our own fault for giving in to our sucker friends and getting MSN Messenger in the first place.

I use Trillian these days, with a nice iChat skin. Of course, the Mac has Adium which from what I've seen is truely gorgeous. But then with the exception of the new BBEdit icon, I can't say I've seen anything on the Mac which isn't.

That was a bit of ramble than a keen, focused rant. Sorry. 😉

From Ed
Friday 8 April 2005 at 08:08

Another "improvement" that you probably didn't notice include that:

MSN 7 now attempts to connect your chat session directly to the other person if they are also running MSN 7. Now how's that for privacy? (Although arguably more efficient)

I agree that the nudges and winks are just annoying, as are the advertisements etc… (Seriously, it's got to the stage that when I am forced to use Windows I actually just fire up the win32 version of aMSN because it's less intrusive!)

However, I can sort of see how the handwritten messages and shared searching might be useful…

Shared searching: Might be useful if you are doing some kind of project with a friend. Given that the major target audience for MSN messenger is probably teenagers this may or may not be useful, even though it may be naive to think that people use it for work rather than procrastination and chatter.

Handwritten messages: Have you EVER wanted to quickly draw out an equation (or something else appropriately non-text-like) when talking to somebody on MSN and got incredibly frustrated trying to line everything up? For something small this would be FAR easier than firing up a text editor, firing up LaTeX, etc… (or firing up Word/Eq^n editor etc…) and then sending a file.

There will be an small 500kb+, erm, 'unofficial' patch which will remove over twenty-some annoyances released soon. It will probably violate the licence agreement, but it offers a more 'streamlined' experience.

I should say I used the public beta versions which, although bloated and commercialised, I thought couldn't get much worse. Guess I was wrong!

I used to use Trillian Pro but eventually MSN lured many of my contacts in. 100M+ unique users a month is quite something, but it'll be interesting to see how many users they loose andhow much new revenue they make with MSN7.

Oh, one more thing whilst we're bashing MS, they're also filtering out certain messages now to stop the spread of viruses. Whilst I agree with the approach (who do you know who sends .pif files?) a blanket ban without informing the users seems overly harsh; a warning or some form of 'hey, this is dodgy'/'hey, we've blocked this' would be nice.

Kind Regards

In that respect, I'm kinda suprised you didn't explode over MSN6? Sure the feature-bloat was far larger going from 5 to 6. 7 is just a predictable evolution.

I didn't have a blog when MSN 6 came out 😉

I also wasn't quite so vehemently anti-Microsoft – that's what a Cambridge education does for you…