Wednesday 3 August 2005
3 comments
As reported by Mr Haughey, Blo.gs has been having certain Issues™ since it was bought out by Yahoo!, most notably bringing up false pings. Just scrutinise my blogroll for a second (screenshot provided for posterity – hello posterity!).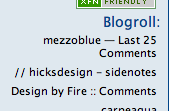 As you can probably see, I have somehow picked up the comment feed for Mr Shea, the side-notes for Mr Hicks and the comments for Mr Herasimchuk. Much as I admire and respect these guys, I'm not sufficiently interested in their comments or linkrolls to have them pop up on my blogroll when I didn't ask for them. Especially as Design By Fire last had a new post in 2004.
The point of my post? I want a new ping manager and/or RSS aggregator for my blogroll. I want something which does what blo.gs used to do before it all went south. Any suggestions?
3 Responses to "Blo.gs mess"
I had wondered quite what was going on (since I use your feed from time to time, guess we must be quite alike in our interests :)). Have you tried Technorati? Not sure if it's what you're after but it may help.

From Katharos
Thursday 11 August 2005 at 19:53

I have no idea what the fuck you are saying. But I just discovered that you had a blog, and I wanted to say 'Hello I love you, how are you doing darling?'

And since when did you care about the names of apple products, hey?

Love and kisses!

Katî xxx

Hi there Katî, good (if surprising) to hear from you: dare I ask how you found out about me?

Oh, and I care about the names of Apple products since I got me a 20-inch iMac.